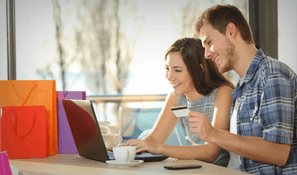 At Link Commerce we provide a full suite eCommerce platform which businesses in turn share and distribute to their customers. The result is a turnkey all-inclusive way for a business to step into the eCommerce world, providing their users with a service they would otherwise not be able to get. Link Commerce's job is to help businesses gain new market share by providing an end-to-end eCommerce mobile and desktop app branded for your business. The eCommerce platform we develop and provide to your company is used as a selling tool to capture more users, serve as a new business revenue model for your company, and most importantly get your customers to think about your brand and company every time they think about shopping.
We provide an eCommerce competitive edge for business
We help retailers sell into emerging markets
Link Commerce is a state-of-the-art patented platform that provides you with the largest online mall in your country! Shop globally on over 250 top online retailers in the US and UK, delivered locally in your service area.
Goal
Our goal at Link Commerce is simple. We provide businesses globally with the competitive edge required to increase sales and dominate their local eCommerce market. Our patented and award-winning software empowers online shoppers from all corners of the world to access over 8.5 billion items, from the top 250+ online retailers in the US and UK. All purchases are made from your branded eCommerce mall app, accessed on Android, iPhone or a desktop computer.
Retailers
We help retailers boost their sales, by helping retailers penetrate new emerging markets at no risk. Shipping companies significantly expand their volume and financial institutions optimize their transactions. We help you create a sustainable business model, while providing your customers direct access to products they can't find anywhere outside of the US or UK.